Several hundred Belgian firefighters have broken through police lines in Brussels and hosed down the prime minister's office in protest at the government's tougher retirement plans.
The firefighters want to keep their early retirement age at 58, arguing their arduous job does not allow them to work into their 60s.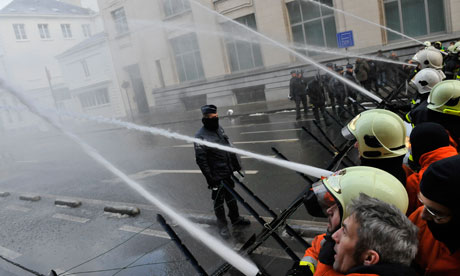 Belgian police get wet as they guard the entrance to the cabinet office from protesting firefighters. Photograph: KeystoneUSA-ZUMA/Rex Features
Such demands run counter to government plans to have the overwhelming majority of people work two years beyond 65 so it can afford an ever-increasing pension bill as Belgium's population ages.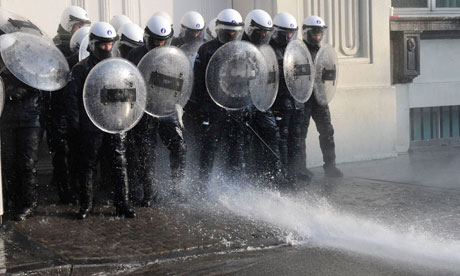 Firefighters aim a hose at the feet of Belgian riot police. Photograph: KeystoneUSA-ZUMA/Rex Features
The deputy prime minister, Didier Reynders, said caving in to the firefighters' demands would "send the wrong signal" to everyone. Belgium has 17,000 firefighters.