Victims of Oiligarchy?
---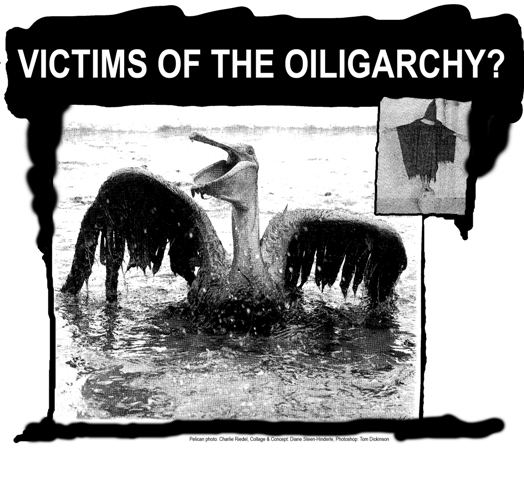 Maybe it was because June is "Torture Awareness Month", but when the wrenching image of an oil drenched pelican (taken by Associated Press Photographer Charlie Riedel) as a result of the BP oil spill appeared in our Star Tribune newspaper earlier this month, anti-torture activist Diane Steen-Hinderlie quickly spotted this connection and created the above collage.
They say pictures are worth a thousand words so look for members of our "Tackling Torture at the Top" Committee of Women Against Military Madness to be wearing t-shirts with the "Victims of Oiligarchy" collage at the various film and panel discussion events being hosted this coming weekend (June 26-27) in Minneapolis. Law professor Marjorie Cohn is coming to speak and so is the former Muslim Chaplain at Guantanamo, James Yusuf Yee, who was himself falsely accused and later exonerated. The "June is Torture Awareness Month" events, which are free and open to the public, are co-sponsored or endorsed by the Center for Victims of Torture and the Minnesota Chapters of Veterans for Peace, the ACLU, Amnesty International and the National Lawyers Guild.
(Also submitted to Huffington Post.)