You are herecontent / Breakthroughs for iMatter Public Trust Lawsuits
Breakthroughs for iMatter Public Trust Lawsuits
---
We wanted to update you all on the big news that came through last week for the iMatter TRUST legal actions. In the midst of the hottest summer on record, with 3,282 heat records broken during June alone, drought conditions to rival the dust bowl era, and ravaging wildfires, a glimmer of hope emerged from the most unlikely of places: Texas.
In the Texas iMatter TRUST lawsuit, Texas District Court Judge Gisela Triana
ruled that the atmosphere is, indeed, part of the public trust.
This means that the court agrees that the state has a constitutional duty to protect the atmosphere for our generation, and for all to come.
THIS IS A BIG DEAL!
As Fox News reported, "
A Texas judge has ruled that the atmosphere and air must be protected for public use, just like water, which could help attorneys tasked with arguing climate change lawsuits designed to force states to cut emissions." :)
Ruling Offers "Persuasive Authority" for other state ATL cases
I never thought I'd say this, but...Fox is right! This is not just good news for Texas. The ruling will help other Atmospheric Trust Litigation (ATL) cases across the nation. A few days after Judge Triana's ruling, we got word that Judge Sarah Singleton, of the New Mexico District Court, denied the state's motion to dismiss. THIS is a big deal to
o!
New Mexico Plaintiff, 18 year old Akilah Sanders-Reed, one of our amazing youth leaders and beloved team me
mbers, has the chance now to to move forward and make her case for the
judge to compel the New Mexico government to create Climate Recovery Plans for her future. Our gratitude to her awesome pro-bono lawyers from Wild Earth Guardians.
And yesterday in Minnesota, our friend and former team member, Reed Aronow, sat in court as his attorneys made oral arguments for their appeal. Friends and iMatter youth leaders, 17 year o
ld Nelson Kanuk in Alaska, 12 year old Jaime Lynn Butler in Arizona, 17 year old Kelsey Juliana in Oregon, 14 year old Adora Spitak in Washington, 24 year old John Thiebes in Montana are all ready, with their lawyers, for their appeal arguments within the next few months.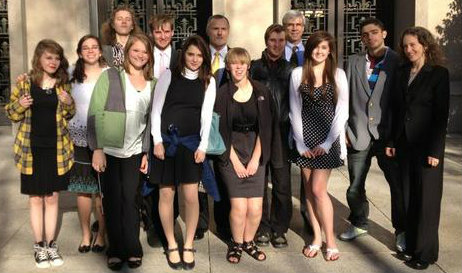 We really owe a tremendous amount of gratit
ude and respect to Julia Olson and her team at
Our Children's Trust
for masterminding and lea
ding this paradigm-shifting national campaign.

Before Professo
r Mary Woods from the University of Oregon began writing about "Na
ture's Trust" and Julia had the
vision to organize a coordinated international campaign of attorneys, youth, and media around the idea that the climate crisis could be addressed as a whole system, legal solutions were fragmented, focused on closing down a particular power plant or seeking justice for a particular endangered species, threatened neighborhood or body of water impacted by our fossil fuel abuse.
This is big. So big that we can barely wrap our heads around it. Brave judges like Judge Triana and the tireless attorneys like Julia and Tom and Phil who take on this work as a life calling have been integral to any social movement throughout our country's history. We are so proud of the youth leaders in communities across the country who are standing up for their future and speaking up for their generation. This effort really could be the breakthrough the whole movement has been waiting for. It is an honor to be working alongside all of these incredible people.
We also feel deep appreciation to you for your ongoing support. Please sign our petition to become a Friend of the Court and
stand up for a livable planet for our children and their children.
In solidarity,
the iMatter team.
NPR: Why a Bunch of Kids are Suing the TECQ
New York Times - Texas Judge Rules Atmosphere, Air Is Public Trust